At V Pizza, we make quality food for quality time with family and friends, wherever you are. We'd love to feed your crew! Please choose your location and fill out the form to tell us what you need. We will contact you quickly to help you create your perfect menu.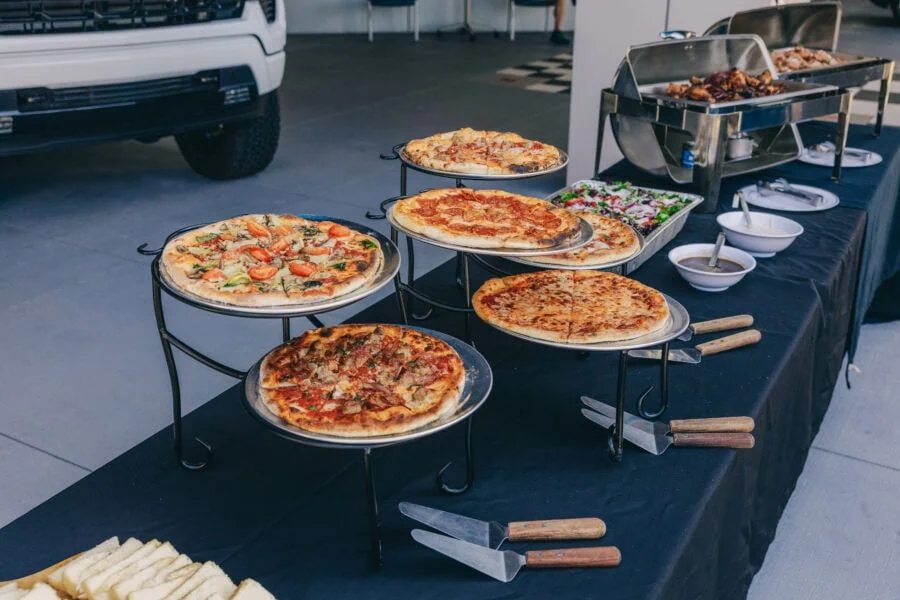 We bring the party to you with our off-premise catering for functions of 30 or more (recommended).
The most important ingredient in our pizza? The oven. We import our wood-fired brick ovens from Naples, Italy, where they use the finest clay to make bricks strong enough to reach 900 degrees (the perfect temperature to cook pizza). With the V Experience, you can have one on-site at your event. That's right—we bring our entire restaurant to you so that you can enjoy fresh, authentic pizza Napoletana.
We travel up to 30 miles from a V location with our mobile wood-fired oven and employees to cook and serve your event. We have catered for groups from 30 to 300 guests, and the feedback has been nothing short of "exceptional," "amazing," "crazy good," and "unbelievably cool…." Our wood-fired oven, food, and staff are incredibly impressive and put on quite a show… especially at night!
Not available in all markets.
$1,500 + $22 PER ADULT /$15 PER CHILD (12 AND UNDER) + $200 Event Production Fee + 15% Tip
The experience includes our wood-fire oven brought to your site, 3-4 employees for up to 6 hours (includes 2 hours for setting up, and up to 4 hours of service), salad for all, a selection of five pizzas for your buffet, and dessert for all. *If your event is in need of a 5th employee, you will be charged an additional $150.
Customize Your V Experience
Add "V" Award-Winning Wings +$4 per person
Add Drink Service +$3 per person (Tea, Lemonade, Water)
Remove Salad -$1 per person
Remove Dessert -$2 per person
We make every effort to accommodate special requests from our guests. If there's something you would like, please ask!
Prices may vary by location.
Examples:
"V Experience" Party/Event with 50 (adults) would be $1,500 + $1,100 ($22 x 50 adults) + $200 Event Fee + $280 (15% Tip) = $3,080 ($61.60 per person)
"V Experience" Party/Event with 100 (adults) would be $1,500 + $2,200 ($22 x 100 adults) + $200 Event Fee +$390 (15% Tip)  = $4,290 ($42.90 per person)
"V Experience" Party/Event with 150 (adults) would be $1,500 + $3,300 ($22 x 150 adults) +$200 Event Fee + $500 (15% Tip) = $5,500 ($36.67 per person)
Instead of working your next event or party, relax and let us handle your bar. We have a staff of professional, hip, and well-versed bartenders who can handle any occasion. We'll guide you through your liquor, beer, and wine purchase, and we can even design specialty cocktails and punches that are unique to your event. All bartenders are BarSmarts certified and knowledgeable in their craft.
Base Rates
Based on 4 hours with tipping allowed.
Beer & Wine only (or Full Bar) – $300 per bartender

Less than 60 guests – 1 bartender
Between 60-175 guests – 2 bartenders
Over 175 guests – 3 bartenders
Rates Include: Experienced bartenders, bar supplies and tools, limited tables and linens (if needed) for the bar, napkins and straws, garnishes, coolers for beer and wine, ice for drinks, and mixing cocktails, guided liquor, beer, and wine purchase analysis.
Choose your favorites off the V Pizza menu, and we'll deliver your food to your event.
$250 minimum food order.
With ingredients imported from Italy, an inviting atmosphere, and incredible food, V Pizza has everything you need for an original event. Our culinary professionals will create the perfect in-house experience for your function at one of our Italian-inspired locations. Each of our spaces is unique, and our hospitality team is ready to help you plan your perfect event.