Old world Italy, right in your neighborhood.
V Pizza produces delicious artisan meals from exceptional Italian sources. Cooked in brick ovens that were made in Italy. With ingredients that are used every day in Naples. It's not just pizza. It's a passion. Bringing the flavor of old-world Italy to our hometown of Jacksonville, Florida, was always our dream. Since opening in 2014, that dream has come to life at ten locations across the country and counting.
Everything we do at V Pizza is unapologetically authentic. From our ingredients, to our kitchens, to our business practices and to our community. In the beginning, we wondered if customers would like Italian food so different from what they're used to in America. Would they enjoy real bufala mozzarella or burn marks on our crust? But we believed in the taste that Italians perfected for hundreds of years. We figured they might just be on to something.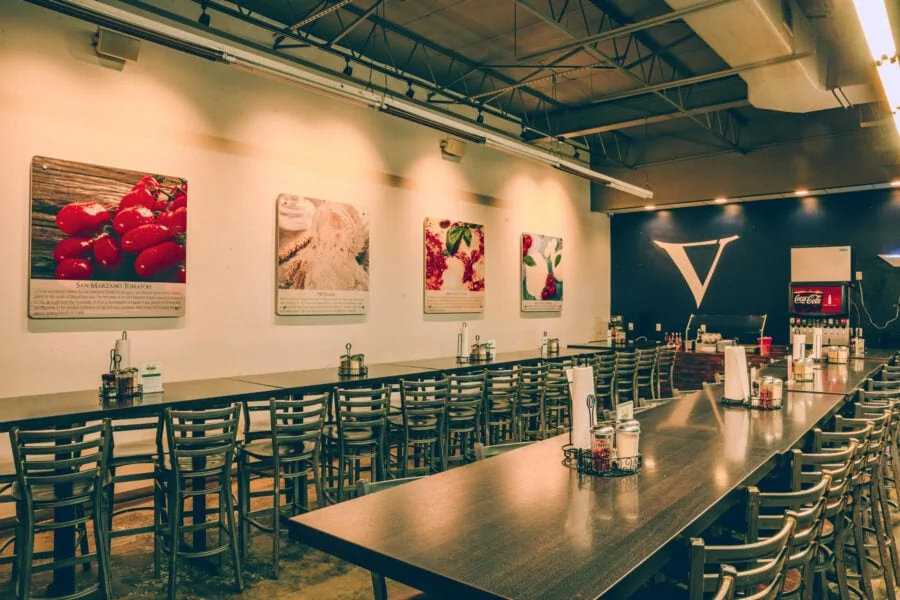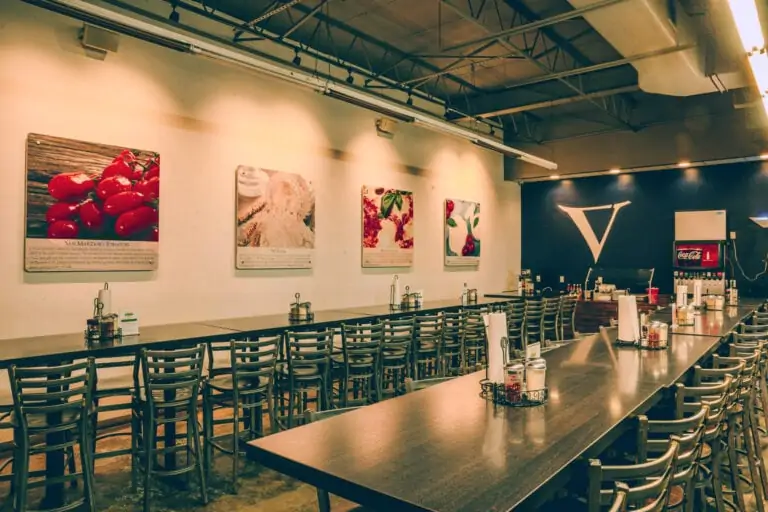 New York style. Chicago style. How about original style?
Imported dry-aged Italian meats, San Marzano tomatoes, and 00 flour? Cheese from a buffalo? Pizzas that aren't perfectly round? Burn marks on the crust? These are all characteristics of authentic pizza Napoletana. It originated in Naples, Italy, and now we serve it precisely the same way at each V Pizza location.
Our San Marzano tomatoes come from the rich, volcanic soil near Mount Vesuvius. Our bufala mozzarella comes from the grazing fields of Campania in southern Italy. We use only simple, all-natural ingredients for the most authentic pizza Napoletana possible.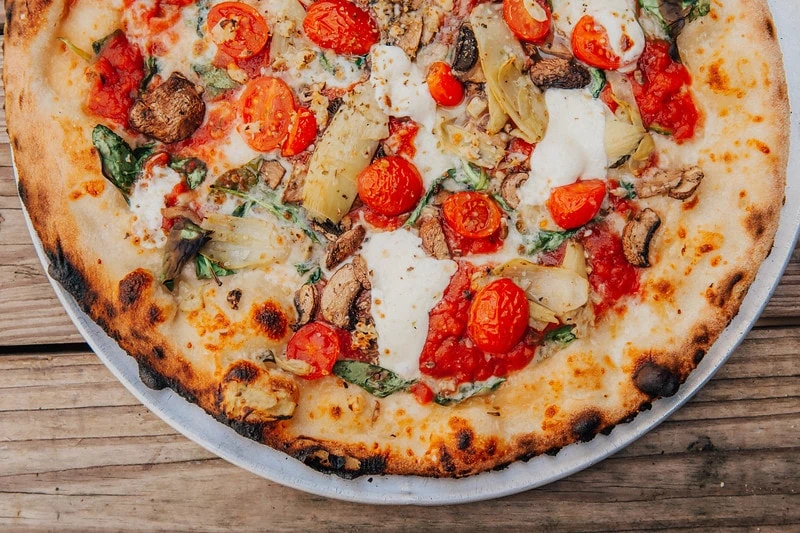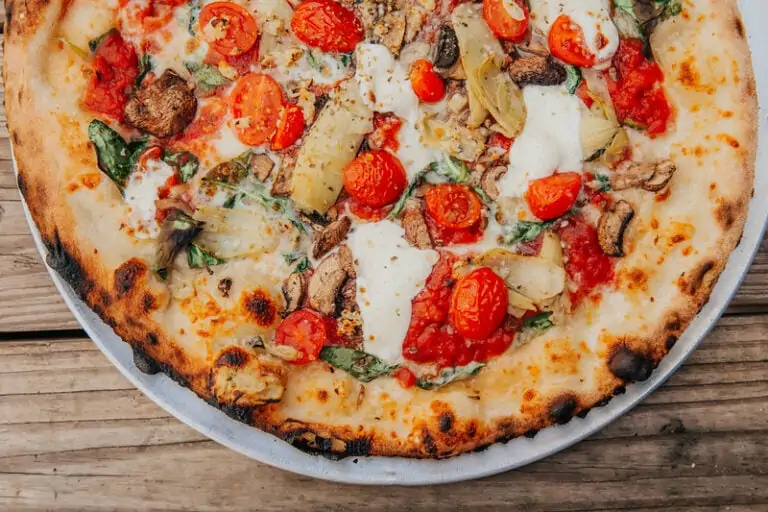 How to cook a pizza: Bricks. Wood. Fire. 
Neapolitan pizza is baked for 60-90 seconds in a 900° clay brick oven with a wood fire. The high temperature causes the dough to become very crispy—in fact, some Italians demand it to be "burnt"—and it sears the ingredients used to top the pizza. The finished product is a perfect pizza that is crispy, tender, and fragrant.
We make individual-sized pizzas, so there's no fighting over the last piece.
One of the defining characteristics of Neapolitan pizza is that there is more sauce than cheese. This leaves the middle of the pie wet or soggy, so it is not conducive to being served by the slice. Because of this, our Neapolitan pizzas are about 13" in size, traditionally eaten with a knife and fork.
Crafting V Pizza: Unique spaces built brick by brick.
When we set out to choose the first V Pizza location in San Marco, Jacksonville, we knew we needed a space as original as our food. We didn't want a property that was part of a strip mall or a newer space made to "look old." That's why we built the original V Pizza in an old paint store. That eclectic little building practically screamed industrial "little Italy." While the back looks like the front and the front looks like the back, our primary goal was to focus on the ovens, ingredients, people, and nothing else.
The Palm Valley (Ponte Vedra, Florida) location was the first we built ourselves from the ground up. Our blood, sweat, and tears are literally in this building, and we love everything about it—including the minor imperfections. After all, we're not construction professionals. We make pizza!
No matter where our next locations take us, the V Pizza story continues to grow. We look forward to the year ahead, which will bring a new and improved Fleming Island location, a new San Marco location, and our first St. Augustine and Orlando locations.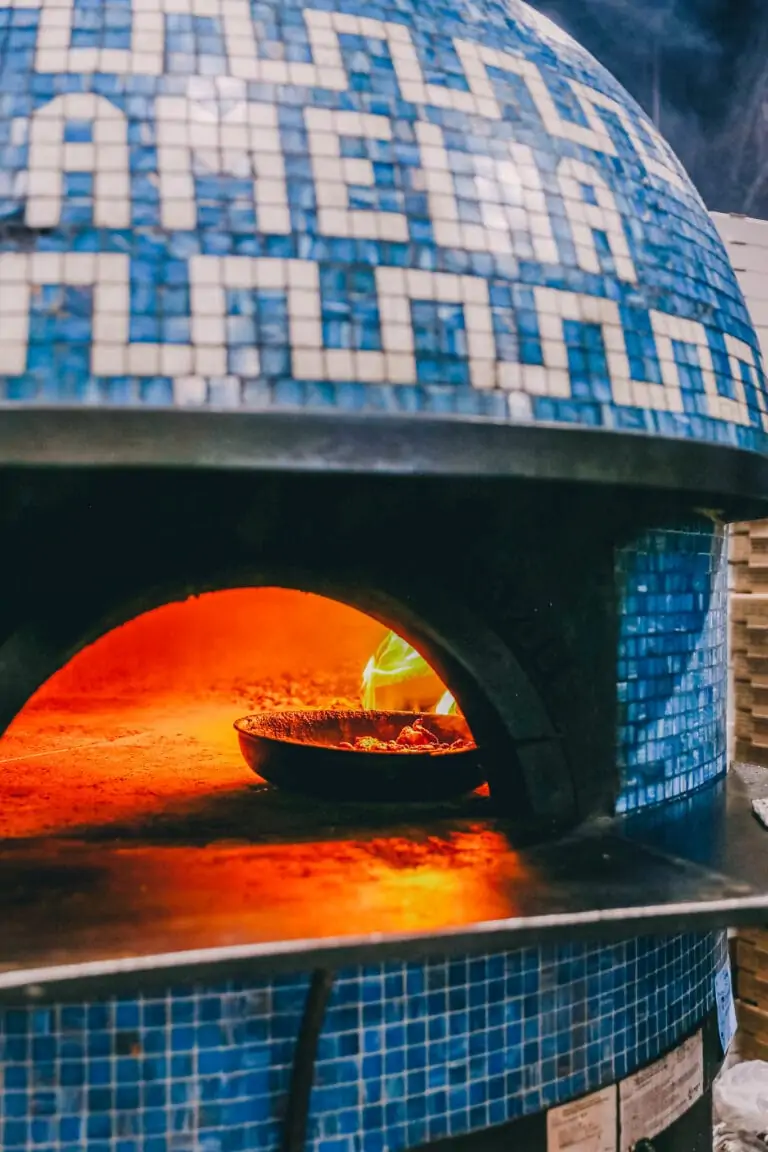 Stop on by. We're fired up!
Each of our locations has its own lovable qualities, from the building to the people, to the cocktail bar, to the tap garden, and of course, the food. We are proud of each of their endearing qualities.
Do you have a favorite location yet? We want you to feel welcome. We want you to love the ovens, ingredients, and people…as much as we do! We believe that our unique locations lend themselves to just that.
The V Stands for Veloce which means Fast in Italian
Although it is rumored that V stands for Very, Very good Pizza the truth is V stands for Veloce, which means 'fast' in Italian. Our 900° ovens cook your pizzas in as little as 90 seconds — now that's fast!
We've won more than 100 awards since opening our first location in 2014 and we've been featured by the likes of Food Network, Buzzfeed, and USA Today. Feel free to peruse the list below… or stop on by and experience what pizza tastes like from our wood fired ovens.