Every day 3-7pm at Sidecar / Flask & Cannon / Tap Garden
Weekdays 3-6pm at Julep
Grab your pizza and head over to Sidecar, offering unique house cocktails, microbrews, and a long whiskey list. The urban beer garden and cocktail bar is located beside our V Pizza locations in the heart of San Marco or Gainesville, Florida.
Sidecar offers a blended experience of quirk and craft, so be sure to pay a visit any day of the week from 3PM to 2AM. Enjoy delicious brews and fun events like Thursday night trivia, daily happy hour from 3-7PM, and don't forget to ask for the Cocktail of the Week.
Follow on Facebook for Events & Specials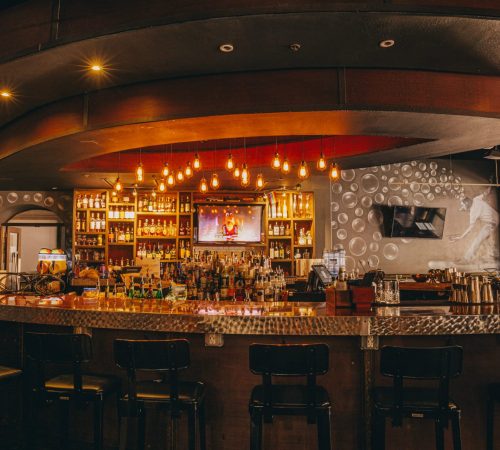 Named after the southern cocktail staple, Julep is the place to be in Ponte Vedra Beach, FL. Visit North Florida's premium craft cocktail bar in the heart of Palm Valley.
With over 900 whiskeys to choose from and an impressive cocktail list featuring classics, tropical beverages, and original concoctions, Julep is more than just a bar. It's an experience known for aesthetic high ceilings, stained-glass windows, and multi-level bar design. Enjoy happy hour M-F 3-6 PM at a variety of indoor and outdoor seating areas.
Follow on Facebook for Events & Specials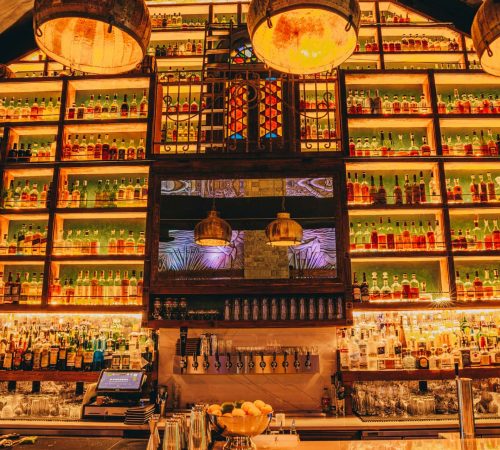 Tap Garden is a local favorite with a laid-back sports bar vibe and patio. There's always something different to try from our huge selection of over 50 beers on tap at each of our locations in Florida and North Carolina. Plus, enjoy weekly trivia, music bingo, happy hour daily from 3-7PM, and live music every Thursday through Saturday.
The large tap variety pairs nicely with a fresh pie!
Follow on Facebook for Events & Specials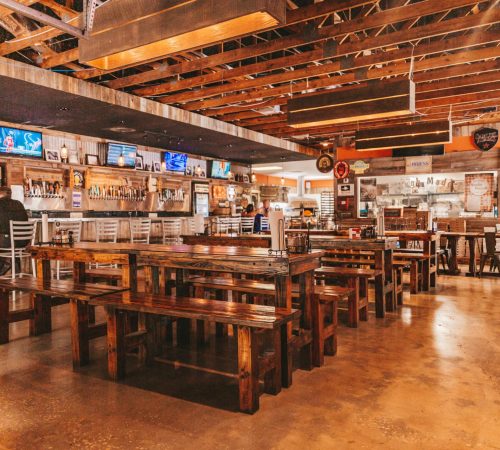 Experience the tiki bar beach vibes and fun at Flask & Cannon alongside our Jacksonville Beach V Pizza location. Pick up your pizza and head over for a wide variety of unique tropical cocktails, like the signature Mai Thai or Flaming Scorpion Bowl (serves four).
Flask & Cannon offers over 150 rum varieties to please your inner pirate and leave you feeling like you just stepped off a Caribbean cruise. Visit during weekly trivia or daily happy hour from 3-7 PM, and all day on Sunday.
Follow on Facebook for Events & Specials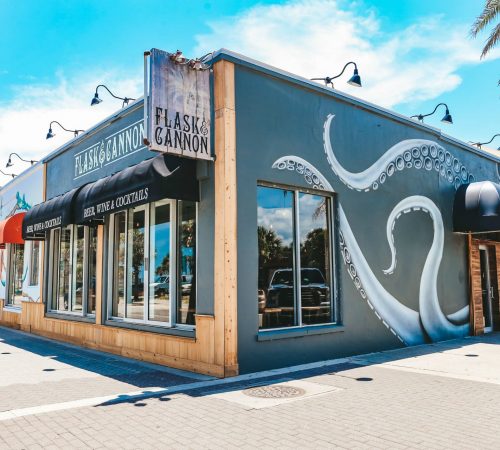 Flask is a hip and modern craft cocktail bar adjacent to V Pizza Brier Creek in North Carolina. Two walls of glass windows open to the spacious patio where you can enjoy specialty cocktails, live music and beautiful sunsets.
Flask has drinks so sophisticatedly delicious, you have to try them all — and come back for weekly specials from our mixologists.
Follow on Facebook for Events & Specials